Our Mission
To create outward-looking and relevant theatrical art, rigorously made for live audiences in Canada and abroad; to work across boundaries of all kinds in this pursuit: geographic, cultural and formal.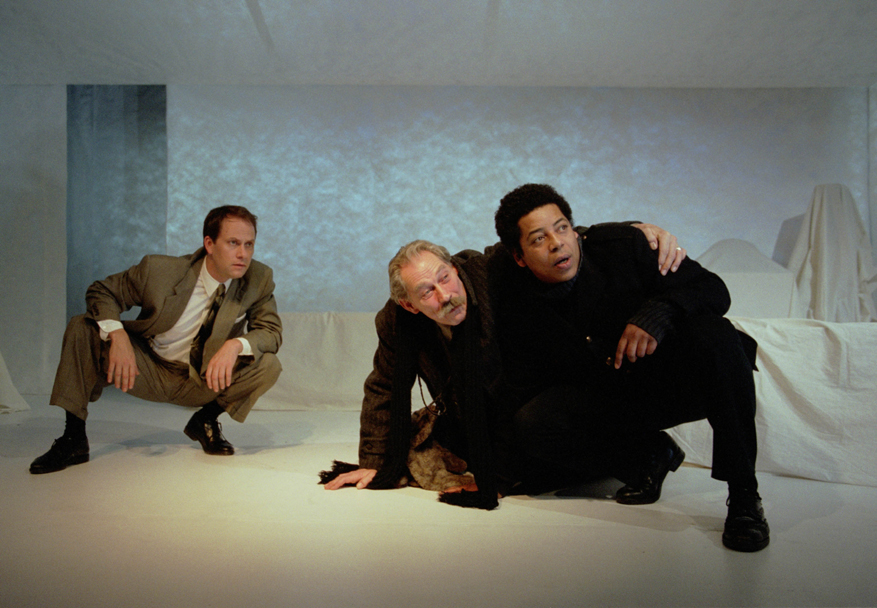 HISTORY
ROSS MANSON ANSWERS THE QUESTION "HOW DID VOLCANO BEGIN?"
I trained in Science initially (BSc Biology from Mt. Allison) and then went on to do a Masters in Drama, with a focus on Directing (Royal Holloway College, U of London). After that, I was too terrified to direct. I'd learned enough to become hyper-aware of my own failings. So I fell back on the thing I had already been doing for years: acting. I moved to Toronto from my hometown - Sackville, New Brunswick - waited tables for a year, then began to get roles. Quite a few roles. I ended up working in most of the major regionals, as well as with the usual suspects in Toronto. After about a decade of this, I became aware - in a visceral way - of the stylistic limitations of mainstream theatre in English Canada. I had been acting literally across the country, and had almost never had an experience outside of rushed naturalism (rehearsal periods were always short - 2 to 4 weeks). So I often found myself acting in new plays that were not really ready to open, and which, after they closed, were too often forgotten. Then I was offered a part in a German play for a festival at Toronto's Harbourftront arts complex: Big and Little by Botho Strauss. The design and direction team were from Munich (the director was Sigrid Herzog, who now runs the acting training program for the Munich Kammerspiele). My mind was blown. The style was not naturalistic. The direction was outside anything I had experienced. The design was about as far from the kitchen sink as one could get. I felt out of my depth and fascinated.
And so a seed was planted. I realized - not in an academic way, but in an embodied way - that theatre could operate with different rules. I applied for an apprenticeship in Germany and got it. This gave me a year away from the acting life, and allowed by mind to engage with what I might want to do on the Canadian stage. I saw a lot of work and read and thought. When I returned to Toronto, I directed an equity showcase production of Woyzeck (my own translation). My scientific training suddenly seemed applicable - researching and experimenting were skills that transferred. The design team from Woyzeck followed me to Volcano's first show, The Third Land. Through doing - I began to form an aesthetic: make work slowly, carefully, and in stages. Keep it alive past its premiere whenever possible. Let the work determine the time it needs to come into existence. Through collaboration, find a new language for each project. Be alert to accidents - they are often useful. Be ready to move either slowly or quickly. Create work that is just beyond your grasp.
NOMINATIONS AND AWARDS
Volcano has won or been nominated for over 70 awards at the local, national and international level.
DORA MAVOR MOORE AWARDS – TORONTO'S THEATRE AWARDS
Outstanding New Play or Musical: Building Jerusalem
Outstanding Production: Building Jerusalem
Outstanding Performance – Male: Nigel Shawn Williams, Two Words For Snow
Outstanding Set Design: Teresa Przybyski, Two Words For Snow
Outstanding Lighting Design: Bonnie Beecher, Two Words For Snow
Outstanding Sound Design/Composition: Mauricio Kagel, Variété
Outstanding Costume Design: Teresa Przybylski, Hedda Gabler
Outstanding New Play: Bruce Alcock, Kate Alton, Rafael Barreto-Rivera, bpNichol, Paul Dutton, Steve MacCaffrey & Ross Manson, The Four Horsemen Project
Outstanding Production: The Four Horsemen Project
Outstanding Direction: Kate Alton & Ross Manson, The Four Horsemen Project
Outstanding Lighting Design: Itai Erdal, The Four Horsemen Project
Outstanding Sound Design/Composition: Rafael Barreto Rivera, Paul Dutton, Steve McCaffery & bpNicohol. (Additional Sound Design Creation: Bill Brennan, Graham Hargrove, John Millard and the cast), The Four Horsemen Project
Outstanding New Play: Infinity
Plus over 43 nominations across 14 shows over 4 divisions.
STAFF AWARDS
KM Hunter Foundation Artist Awards (Ontario): Kate Alton and Ross Manson
Harold Award for Service of the Toronto Arts Community: Meredith Potter, Kate Alton, Camilla Holland, Ross Manson & JP Robichaud
Shortlisted for the 2009 Ontario Premiere's Award for Excellence in the Arts: Ross Manson
Shortlisted for the 2010 & 2016 Siminovitch National Directing Award: Ross Manson
OTHER AWARDS
Carol Tambor "Best of Edinburgh" Award 2006, Edinburgh Fringe Festival: Goodness
The Scotsman First Fringe Award, Edinburgh Fringe 2006: Goodness
Chalmers National Play Award (Canada): Building Jerusalem
Best New Performance Text: Summerworks Festival, Toronto: White Rabbit Red Rabbit
NOW People's Choice Award (Toronto), Summerworks Festival "Best Production": The Arabian Night
Two Governor General's Award Nominations (Canada): Building Jerusalem and Two Words for Snow
Arches Brick Award for Emerging Talent – Edinburgh: White Rabbit Red Rabbit
Dublin International Fringe Best Design Award: The Four Horsemen Project
U Win Tin Freedom of Expression Award Shortlist, Edinburgh Fringe Festival, 2005: My Pyramids